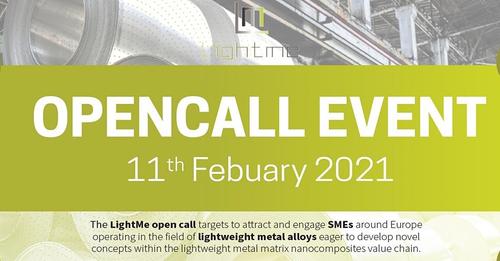 LightMe Opencall Event
For organizations with interest in new and Innovative Lightweight Metal Matric Composites. The LightMe Open Innovation Test Bed (OITB) is offering a unique opportunity in order to validate FREE OF CHARGE your product ideas!
On 11th of February 2021, the LightMe OITB is organizing an open event targeted to SMEs and R&D organizations across all Europe operating in the field of lightweight metal alloys for multiple sectors. The LightMe OITB concept & services offered as well as the application procedure to the open call will be presented at the event.
LightMe project boosts innovation in the field of lightweight metal matrix nanocomposites setting up an Open Innovation Ecosystem that will reinforce the introduction of new functionalities, features, and capabilities to lightweight metals.
Due to COVID-19, the event will be remote!
You can register for the Open Call event and check the agenda of the event here: https://www.eventbrite.co.uk/…/lightme-open-call…
You might also check the Project website by clicking here: https://www.lightme-ecosystem.eu/index.html

This project has received funding for the European Union H2020's research and innovation program under the grand agreement number 814552.