Industrial Technologies 2016, Amsterdam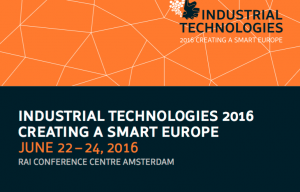 Industrial Technologies 2016 was a networking conference in the field of new production technologies, materials, nanotechnology, biotechnology and digitalisation in Europe, with high level delegates. This was a three days conference with a wide variety of plenary and interactive sessions, inspiring keynote speakers, case studies, eye-opening site visits and numerous opportunities to get in contact with new business partners. Industrial technologies is the conference that brings together research, industry, education, finance and policy from manufacturing and process industry and technology domains from all over Europe to identify priorities that are crucial to strengthen the European industrial innovation ecosystem.
AXIA Innovation attended the conference in Amsterdam as well as the B2B bilateral meetings that took place on June 23rd 2016 in Amsterdam. This event offers the chance for meeting new international partners (including from industry, research organisations, policy makers and investors from over 40 countries) and exchanging ideas for collaborative research, technology transfer and commercial opportunities in pre-arranged 20 minute one-to-one meetings.